04/05/2023
HERRCO contributes to the circular economy and sustainable development of the country
HERRCO' s work on packaging recycling in Greece and positions on circular economy were highlighted during Delphi Economic Forum VIII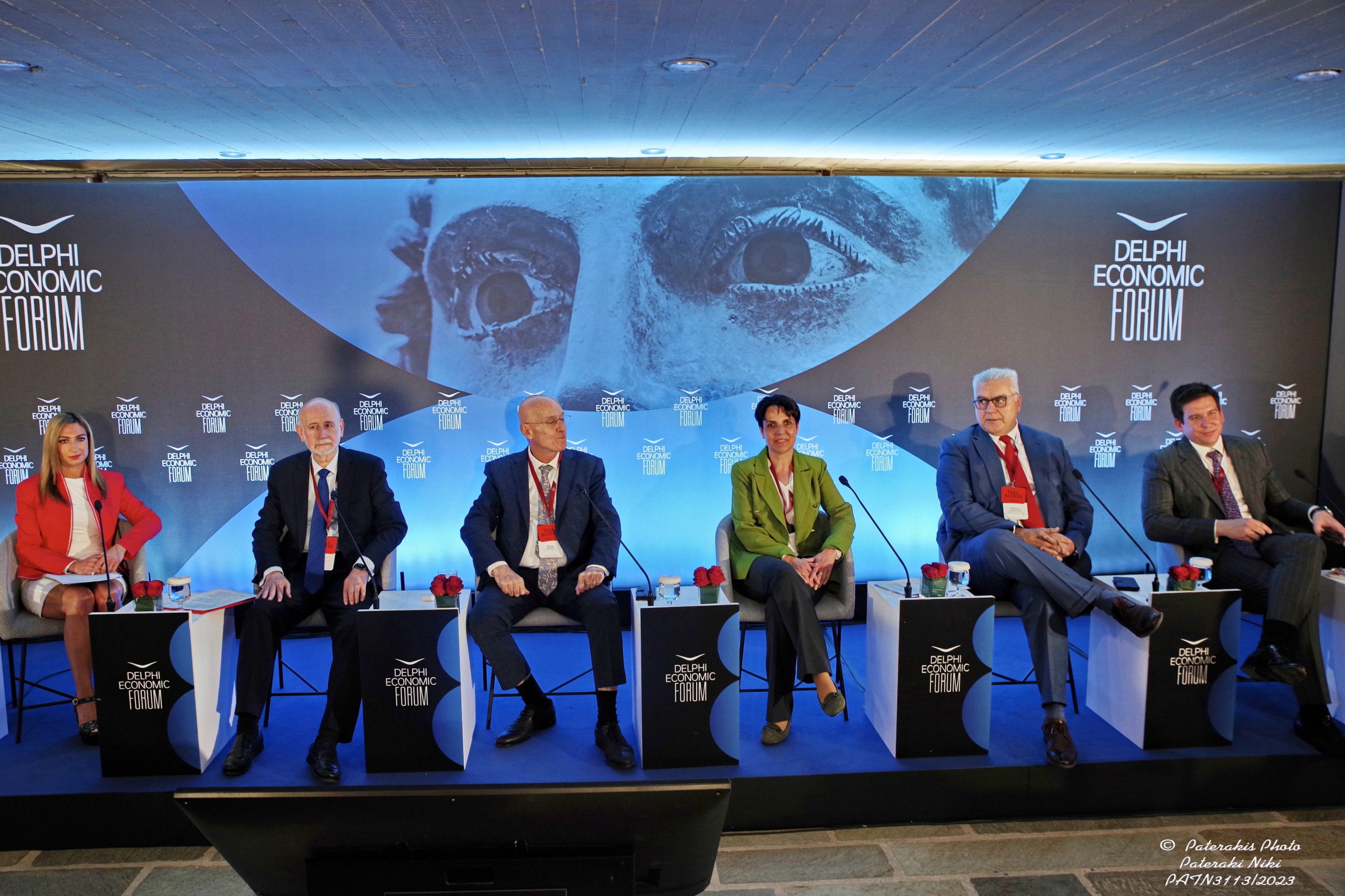 The Chairman of the Hellenic Recovery Recycling Corporation (HERRCO), Mr. Michael E. Economakis, presented the contribution of HERRCO to the packaging recycling of the country and to the building of the circular economy, through his participation in the panel "Achieving Carbon Neutrality via a Circular Economy" held on Thursday, April 27, 2023 in the framework of Delphi Economic Forum VIII.
In the same panel participated and expressed their views Mr. George Kremlis, Principal Advisor to the Greek Prime Minister on Energy, Climate and Circular Economy issues, Mr. Dimitris Sakipis, ESG Advisory Leader of PwC Greece, Mr. Athanasios Kefalas, General Manager of S&B and General Manager of IMERYS Greece & Bauxites, and Mrs. Lena Belsi, Head of Geocycle at HERACLES Group.
Mr. Economakis referred to the necessary transition from the linear to the circular production model that focuses on reduction, reuse, repair, recycling and recovery with the aim of saving materials and energy resources, and emphasized that citizens, businesses, companies and the state must work collectively to achieve a climate-neutral economy and create a productive and sustainable development model.
During the discussion, the Chairman of HERRCO presented the ways in which the company actively contributes to the development of the circular economy, speaking initially about the system of HERRCO which is responsible for approximately the 20% of the country's total solid urban waste. He then underlined that the blue bin system covers 95% of the National result in packaging recycling, while emphasizing that the management of 500,000 tons of packaging waste by HERRCO resulted in the avoidance of 1.5 million tons of CO2 emissions and electricity savings in 2022, corresponding to the annual consumption of 870,000 households.
During the discussion, Mr. Economakis referred to HERRCO' s investments in new technologies and programs that promote sustainable development, while he noted that educating and informing citizens is the key to achieving the desired results in the recycling sector. Finally, he highlighted the issue of "free riders", pointing out that it must be tackled with the intervention of the state and the need of the proper functioning of the public administration to stop the loss of important resources from packaging recycling, which could be used for the benefit of the circular economy.